Process Chiller Selection Guide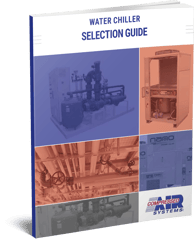 Process chiller systems are designed to supply cool water throughout a building or facility for cooling products, mechanisms, and machinery in a variety of industries. When the time comes to select a water chiller for your application needs, one of the most important considerations is capacity.
Our Water Chiller Selection Guide breaks down the three primary types of process chillers, which are based on load capacity. These include:
Fill out the form to access your copy of the Water Chiller Selection Guide.