Over recent years, visiting a winery has become a popular social activity throughout the spring, summer, and fall seasons-- stomp on some grapes, taste the different wines and enjoy the beautiful scenery of the vineyards.
While we're all enjoying, wineries are working year round to maintain the highest quality of production and manufacturing, trying to allocate costs and sufficient energy usage correctly.
For best results, it's time for winemakers to begin relying on a much greater mechanism to keep this process prolific, but also energy efficient: an air compressor tank.
When we think 'air compressors,' it's safe to say a winery isn't the first place we'd think of using such a resource, but air compressors are known to have a variety of uses and power hundreds of different tools and mechanisms.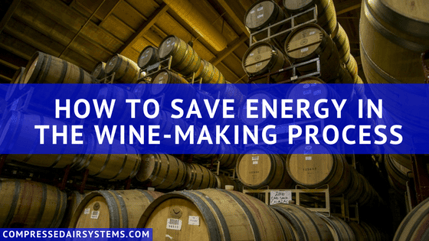 Simply put, these air compressors work to convert electrical energy into kinetic energy.
Air compressors are successful in saving energy, reducing costs, and creating efficient working processes for a wide range of facilities… and yes, that includes a winery.
Energy Saving Sources
Wine production is a step-by-step process that requires an array of production functions necessary to harness the best results.
Procedures include crushing and pressing, grape heating and cooling, filtering and drying, and the final receiving and bottling.
Although it may not be so apparent, many wineries have shifted from traditional hand-made winemaking to much more mechanized and machine-based processes.
Throughout the winemaking process, a compressed air system allows for better energy management and a reduction in air leaks.
Utilizing compressed air entails regularly auditing energy systems to ensure the use of adequately sized equipment with suitable capabilities for periods of low and high usage.
Often, the air compressors in use are over-pressurized and need to be checked to make sure they are performing at necessary levels.
Wineries will tend to use customized air compressors based on the pressure required to operate efficiently during a particular time. When demand is less, some compressors are shut off to make sure unnecessary energy isn't being used.
The savings have been remarkable for wineries across the nation that have integrated compressed air systems and maintained them for optimal use.
Along with these air compressor systems, wineries are also beginning to use onsite Nitrogen gas generators to decrease nitrogen costs.
Nitrogen is used to prevent oxidation throughout the manufacturing process and is also an important factor in the wine bottling process.
Nitrogen is used to wash and dry the bottle before filling it (referred to as wine sparging) and is also used to eliminate the presence of excess air in the bottle's neck before corking. Nitrogen generators have proven to be economically viable for all large and small winery applications.
Use of a generator continues with the help of reducing energy costs and lowering carbon footprint, both beneficial to the winery, all while maintaining a safer work environment. Cheers to that!